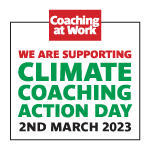 WHAT'S GOING ON FOR CLIMATE COACHING ACTION DAY, 2023
Coaching at Work
Coaching at Work has released two new conversations relating to Climate Coaching Action Day. These are available on the Coaching at Work website and also on their 24/7 station, Coaching at Work Radio.
Podcast: Liz Hall in conversation with Jo Confino
A podcast with leadership, sustainability expert, journalist and Zen practitioner Jo Confino. In the podcast, Liz Hall and Confino talk about topics including spaciousness, impermanence, inter-connectedness- the universe in a carrot and in us, the far-reaching impact of every action versus individuation, mindfulness, the power of presence and deep listening in coaching, and Confino's work with climate justice leaders.
Podcast: Liz Hall in conversation with Charly Cox
A podcast with Charly Cox, an award-winning (Coaching at Work) climate change coach and founder of Climate Change Coaches, who specializes in developing leaders in environmentally-focused businesses. In this podcast, she talks to Liz Hall about the book she wrote with Sarah Flynn, Climate Change Coaching: the power of connection to create climate action.
Previous Coaching at Work Podcasts and Article for Climate Coaching Action Day
A leader in the field, Dr Alison Whybrow, who very sadly passed away on 27/2/22, shared her concerns with us about the climate crisis in her article titled, 'We are not OK'.
International Society of Coaching Psychology
The International Society for Coaching Psychology (ISCP), ISCP International Centre for Coaching Psychology Research and the ISCP Faculty of Climate Change and Coaching Psychology support Climate Coaching Action Day. In December, 2021, Alison launched the Faculty with Dr Siobhain O'Riordan and Prof Stephen Palmer. In support of the event, the ISCP is releasing the last keynote the late Dr Alison Whybrow gave at the 11th International Congress of Coaching Psychology, sponsored by the ISCP in 2021 to watch during March, in support of Climate Coaching Action Day and in memory of Alison and her outstanding contribution to the coaching psychology profession and the field of climate conscious coaching. The Zoom link to the keynote recording, 'How do we create relationships able to hold reconnection and recovery?' is now available on the ISCP websites. This keynote has an introduction by Dr Siobhain and Stephen which was included for the ISCP Congress in 2022. The ISCP is also releasing the Coaching Psychology International special issue titled 'Ecopsychology informed coaching psychology' co-edited by Siobhain O'Riordan and Stephen Palmer.
ICF Thought Leadership Institute
In honour of Coaching Climate Action Day, the ICF Thought Leadership Institute is launching its second Future of Planetary Ecology Collection, featuring a spotlight article here on the inspiring work of the Climate Coaching Alliance.

Visit its Future of Planetary Ecology collection to learn more. Read the bios of the Wisdom Weavers here. And watch for more collections as it begins to publish monthly content through its Global Digital Library.
Climate Coaching Alliance (CCA) Global Festival, 2-31 March, online
This year's theme is Tools for transitions: Navigating the paradoxes, polarities and paradigms in climate coaching.
The festival theme is Tools for Transitions: Navigating the Paradoxes, Polarities and Paradigms in Climate Coaching. The Festival is free and is being delivered in two parts. The first is a series of curated keynote presentations while the second delivers over 50 wide-ranging workshops and reflective and engaging events in different languages across varying time zones. These will be led by CCA members and associated partners from every corner of the globe.
Academy of Executive Coaching
The AoEC is releasing a podcast, Coaching Conversations with the AoEC Podcast-
Coaching with and within nature, in which the AoEC's George Warren is joined by Tabitha Jayne from Earthself and Lesley Roberts from Coaching Outdoors to look at coaching through the lens of nature. They'll explore how coaching practitioners can make the most of what nature can offer them, the client, organisation and the planet. From awakening the senses to the world around us, to bringing the natural world into our coaching conversations, they'll share their expertise in how nature and connecting with nature can help improve mental and physical wellbeing and boost creativity and focus.
It's also creating a unique webpage containing all of the resources it's created for Climate Coaching Action Day over the years.
Positivity Global Coaching
Climate Coaching Roundtable: Let's do it together. There is no Planet B. With F Brody PCC, S Sharma MCC and A Derlopas MCC
Youtube.com/c/PositivityCoaching
16.00 UK time
International Academy for Professional Development & affiliated Centres
The International Academy for Professional Development and their affiliated centres including Centre for Coaching, Centre for Health Coaching, International Centre for Ecopsychology, Centre for Positive Transitions, and Centre for Stress Management support Climate Coaching Action Day. They are collating articles co-authored by their staff, trainers and associates on topics relating to climate coaching, ecoanxiety, ecostress, ecodepression, eco-research, and coaching/therapy interventions to enable coachees and clients to maintain motivation. Article abstracts and links for downloading the articles can be found on their new Climate Coaching Action Day webpage.
---
Get involved
Let us know what you're doing and we'll share. liz@coaching-at-work.com
Climate Coaching Action Day on social media
Hashtag: #climatecoachingactionday
Facebook: www.facebook.com/groups/ClimateCoachingActionDay
LinkedIn: www.linkedin.com/groups/8869975/
Twitter: @climatecoachday
Pinterest: Climate Coaching Action Day
Climate Coaching Action Day LinkedIn: https://www.linkedin.com/groups/8869975/